| | |
| --- | --- |
| | Click On Any Picture To See Full Screen View |
---
| | |
| --- | --- |
| A Finland proposal to buy 200 units helped convince the Four Wheel Drive Auto Company of Clintonville to take over Eliason snowmobile production, with Carl as a prime consultant. FWD had Carl's latest Sayner design revised slightly and all related patents updated. Four different models are documented as having been built at Clintonville and other design proposals were considered during World War II. Although the Finnish deal fell through, the US Army later purchased 150 all white Eliason/FWD Motor Toboggans for use in the defense of Alaska. | |
A group of Russians also visited Clintonville's FWD plant and test drove the Motor Toboggans up and down the Pigeon River. They borrowed a machine gun from the local library, mounted it up front, and, while running the river, sprayed imaginary bullets at the river banks.

The Clintonville Motor Toboggan models were designated as A, B, C and D with A being the oldest and D being the most advanced. Steering, a continuing problem, varies with all four models. The A model had a long, padded seat with a back rest only for the rear most passenger. Hickory was used for the toboggan. Production began with the 12 HP Excelsior engine which was soon replaced with the more powerful 25 HP Indian 45 CID engine. Steering was controlled by a lever on the left side. Fuel was carried in a square and later half round tank located behind the engine and ahead of the drive.

B models were well documented by a 91 page manual. B's used the Indian 45 CID engine. Photos show two seat backrests with no tool box located aft of the seating area.
The model B also used the same lever controlled steering. A combination oil and gas tank with attached tool box was added. The throttle was foot operated and the unit weighed about 500 pounds.
The C model featured two seat backrests, a tool box aft of the second seat and a tiller steering handle with an Indian motorcycle twist grip throttle mounted over the ten gallon fuel tank. A separate vertical oil tank was attached to the engine. Shorter, improved skis were also added. War design improvements generally consisted of covering the exposed engine and enclosing the track assembly. Weight had now climbed to about 600 pounds.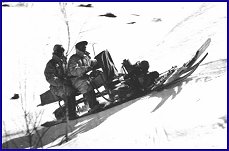 The D model was the most streamlined. It sported steering wheel cable controlled skis and a tubular frame construction. Toward the end of production, a plywood toboggan was used in place of the hickory board construction.

The Indian 45 engine was built with a three-speed transmission that gave the snowmobiles a top speed of 35 miles per hour. However, steering ability was very limited.
As World War II production tapered off, State Conservation Departments and trappers began to purchase model C and D snowmobiles. The total production at Clintonville was about 300 units built from 1941 to 1947.
Authentic Popular Mechanics Magazine Cover
December, 1942
Click On Thumbnail For Full Screen View
Authentic Life Magazine Advertisement
January, 1944
Click On Thumbnail For Full Screen View
Authentic Original Brochure
Printed in August, 1940
Click On Thumbnail For Full Screen View
Snow Express and Snow Riding ads
Click On Thumbnail For Full Screen View

Snow Express

Snow - Riding..
---
Read about Indian's test drive of the Model "C"
Proposed Deluxe Model "C" Design
Carl Eliason & Co.,Inc. Copyright © 1997 All Rights Reserved